TRILOGY OF THE POSSIBLE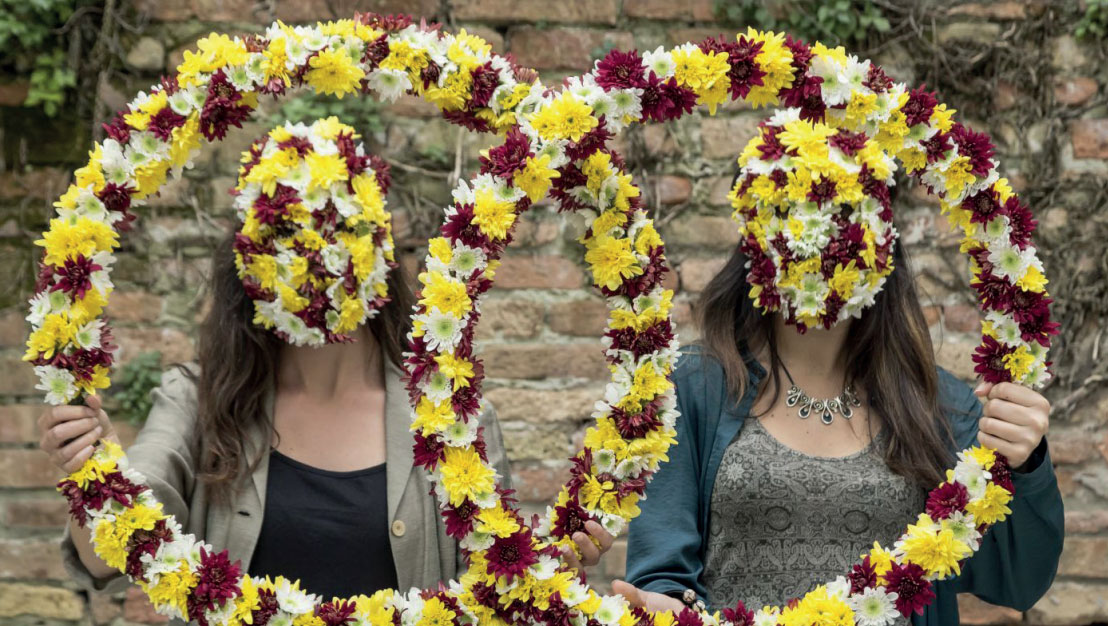 Trilogy Of The Possible
by Paola Tognon
On May 22, 2018 in Venice, between the narrow streets and the bridges around Ca' Foscari palace, it happened that two artists together with a group of students and professors gave thought, form and colour to a new Republic of Marvels.
What kind of practice this was is an important matter; however, it is even more significant to ponder the fact that two artists chose – against today's mainstream approach to reality, as well as to daily and common thought – to demonstrate and apply an idealistic and libertarian attitude. It sets them apart from pessimism as a mental habit, from polemic resistance as a last resort, from the kind of seductive intimacy of those who think in solitude as a practice of resilience.
This was the last project of the duo Vinci/Galesi (Sasha Vinci, 1980 and Maria Grazia Galesi 1988), promoted by Ca' Foscari University of Venice for the programme Ca' Foscari Sostenibile. This is another relevant matter, because it launches a collaboration between different sectors, institutions and – foremost – between generations.
As far as the artistic practice is concerned, The Republic of Marvels was conceived and constructed like a collective action, a travelling performance in Venice; it was imagined and planned to create a space and time of reflection, which recalls and ritualizes the stories and desires of a community, the one that built the ancient city on the Lagoon. It was a site-specific project, entirely in the habit of Vinci/Galesi, aimed at a resonant action that should stimulate new perspectives and thoughts on the contradictions of our contemporary world. It was a sort of site-specificity able to stay in our time and draw idealistic force and energy from its very place, though avoiding becoming something ephemeral in a Venetian style.
Flowers – an empathic and direct metaphor of beauty and transience, of energy and frailty – as typical for the duo Vinci/Galesi were the central element of this action. People, objects, symbols and instruments – which had been elaborated in a mental choreography in the previous months – were "flowered" before being dressed, or carried; they were decked in flowers sent from Sicily, the land of Sasha Vinci and Maria Grazia Galesi. In this sense, besides being a natural component with a high power of suggestion, flowers became skin, garment, form and colour; they transported ancient traditions recalling the culture of an island that lies back in time. In parallel, the flowers' shipping, the teaching and learning of the flowering technique, the time between these practices and the performance, were all integral part of the project, which was composed of units comprising planning, workshops, brain-storming, construction of symbols, choreography and participatory action in the urban space.
In this alternative dimension, though not opposed to reality, the Venetian performance begun precisely with flowers, a concrete matter in the works of Vinci/Galesi, and was structured in five acts – alteritas-pluralitas, communitas, humanitas, constitutio, naturalia/mirabilia – lived out by a big group of people in the places and spaces around Ca' Foscari. What emerged was a sort of symbolic and rhythmic representation of the constitution of The Republic of Marvels, an idealistic, unexpected and extraordinary place where humankind interrogates itself on the relationship with possibilities in life.
Another passage in this work, according to a customary practice of Vinci/Galesi, was the preparation of a video testimony of the performance: although it stands only as a partial restitution of the event, it presents its atmosphere and complexity showing the concentration of the performers, the curiosity of passer-bys and, eventually, the acoustic harmony and the singing that characterized the conclusion of this action. There is finally a third passage that marks this project: during the night – because the time of flowers doesn't allow waiting, rehearsing and repetition – the performers explored the Venetian darkness with the symbols of The Republic of Marvels and dragging the long oval mantelpiece that covered them at the end of the performance. In the silence of this pedestrian city, with neither a predetermined structure nor a planned itinerary, like in "an idealistic but not unreal dream", The Republic of Marvels turned into a prolonged time-lapse of spontaneous gestures and liberating movements. Recorded by two cameramen, places, paths and gestures became the material of a new video piece that completes and concludes the Trilogy of the Possible by Vinci/Galesi, which is now composed by Mutabis (2016), La Terra dei Fiori  (2017) and La Repubblica delle Meraviglie (2018).
Idealism and vision match each other with due effort and determination, they constitute the true research of significance in this trilogy, which doesn't concede anything to naivety of appearance. Like a measured ritual it engages in a dialogue with places and stories; like a vision it addresses poetics and sense in the research path of Sasha Vinci e Mariagrazia Galesi.