Open Stage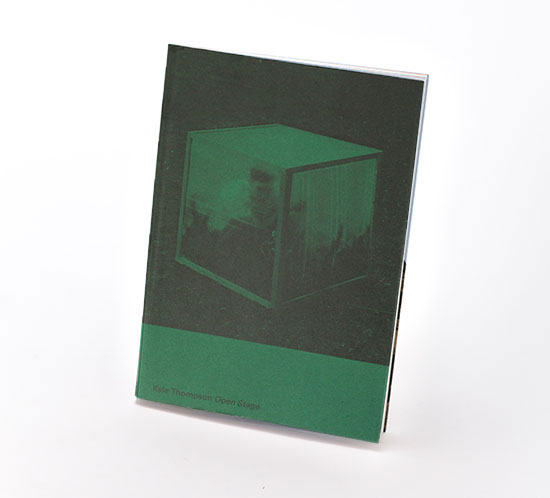 INTRODUZIONE (5)
Vincenzo Mazzarella
ZOOMING OUT (7)
Gabriela Galati
OPEN STAGE (15)
SELECTED WORKS (37)
BIOGRAFIA E CURRICULUM VITAE (61)
MOSTRA E CATALOGO A CURA DI
Gabriela Galati
UFFICIO STAMPA
Studio Esseci, Padova Vincenzo Zuccaro, Reggia di Caserta Tutte le opere courtesy dell'artista e aA29 Project Room.
TESTI DI
Gabriela Galati Vincenzo Mazzarella
TRADUZIONI
Gabriela Galati
PROGETTO GRAFICO COMUNICAZIONE E CATALOGO
Multiplo, Padova
CATALOGO STAMPATO DA
Kromatografica, Ispica (RG) Prima edizione: marzo 2018 ISBN 978-88-943444-0-0 2018 aA29 Project Room S.r.l Via Filippo Turati 34 – 8110 Caserta (00)39.329.8589624 www.aa29.it
CON IL SOSTEGNO DI
Cas'è Charming House Fideuram Caserta International Broker Art Kromatografica Marciano Cornici Oliveo.it Osteria Nunziatina Polis Caserta
UN RINGRAZIAMENTO SPECIALE
A Mauro Felicori Vincenzo Mazzarella Vincenzo Zuccaro Daniele Napolitano Reggia di Caserta Galleria aA29 Project Room — Caserta e Milano, di Gerardo Giurin e Andrea Esposito
UN RINGRAZIAMENTO A
Massimo Antichi Alda Basile Amos Bianchi Mariarita Borsarini Edoardo Botta Michela Botta Marcella Botta Patrizia D'Amico Federica de Stasio Luigi Fedullo Sara Femiano Danilo Gigante Matteo Graniti Nicola Grimaldi Federica Lorenzetti Paolo Lorenzetti Salvatore Marciano Alfredo Marciano Enrico Matano Gennaro Messina Corrado Molgora Christian Nojer Johanna Nojer Vittorio Pisanti Adriana Polveroni Patrizia Posilipo Marilene Rambaldini Marcello Sciucca Giuseppe Vigliotti
OPEN STAGE
Open Stage (2017-18) is a new series of works, and an exhibition. In these new photographs, Thompson intends to show the viewer the context of his photographs. In this sense, he considers the settings in which he shoots as a stage, thus in this series through a sort of zoom out, he reveals the real context of his better-known mysterious environments.
With this aim, the works are created as pairs: Whilst the first is a staged self-portrait, the second, much smaller, is the one that shows the environment, breaking the illusion of the first, staged photograph. As it becomes evident in the exhibition, this is a courageous choice: knowing the true context, the "backstage" may brake the magic, and this is risky, but at the same time, exposes a part of the artist's research and interests that are not so well known. In fact, the concept of the series has not only to do with underlining the staged trait of his photographs, which is evident, but more likely with investigating the intertwining of urban tissue and nature in his native America.
Thompson says: "While living in urban environments, I find myself searching out small pockets of nature within the city to create my work", but how do this "small pockets of nature" relate to the surrounding urban environments? The point is not to think about this relationship in a dichotomist fashion—the cliché opposition between the city and the countryside, or natural and cultural—but to try to expose how they interrelate, and how nature, even when surrounded by vast urban and industrial areas, often manages to "resist".
There is of course a difference between how natural areas persist in America, and in Europe, particularly in Italy, where it is far more difficult to find "untouched" natural areas. This is one of the focuses that Thompson will give to his research during his artistic residency at aA29 Project Room Caserta, during which he will study the particularities of the interrelation between urban environment and nature in the Region of Campania. The ways in which this relationship has unfold in Campania have not always been harmonious: whilst the action of civilisation, urbanisation and artistic practice has been often outstanding, such as in the case of the Reggia di Caserta itself, or in the magnificent architecture in cities like Naples or Salerno, in recent times the region has been subject to tremendous pollution and contamination of its fertile lands. There is no doubt that Thompson will have interesting ways to deploy his personal point of view on these tensions.
Going back to the works in the exhibition and on the present catalogue, the concept of this series was initially inspired by the work Overpass, a photograph in which it is possible to see the artist lying in a puddle, it may give the idea that there is some sort of a void under his body, but when one looks at it carefully it is possible to see that the water reflects the surroundings, even when they can't be clearly distinguished. Then, observing Overpass Stage, the "context" photo, it is possible to clearly appreciate that the environment of this bucolic landscape consists in reality in a cement and iron highway. Now one can identify the highway reflected on the water, and, as the artist says "it almost works as an answer to a puzzle". Often, the part of the puzzle made apparent by these works consists in images that the viewer imagined surrounded by pure, wild nature but are in fact just the backyard of a building, like in Grave / Grave Stage, or Greenhouse / Greenhouse Stage, or some grass behind a parking lot, like in Newspaper /Newspaper Stage. Whilst in series like Ghost Town nature seems to have quickly overcome what humans had built, in this series the situation is reversed: Thompson seems to have managed to find tiny natural spaces within tight urban and industrial settlements, and he reveals this fact in the Stage photos. Exposing the ways in which nature and culture grow together, and how they overcome one another in turn, in Open Stage the artist expands an idea—or possibly just a question that he can continue to explore indefinitely— that was already present in the background (or in the backstage?) of his previous works.
After observing the whole series, what becomes apparent is that the risk was worth taking because the illusion may be partly broken, but the whole oeuvre is enriched, and this does not take any of the magic out of each work: we are still fascinated by the dreamy quality of the image, each photo obviously taken with maximum attention to detail, but after the zoom out, we can put it in context, we can now complete the puzzle.